My Dearest Emily - Online Escape Room
£

15.00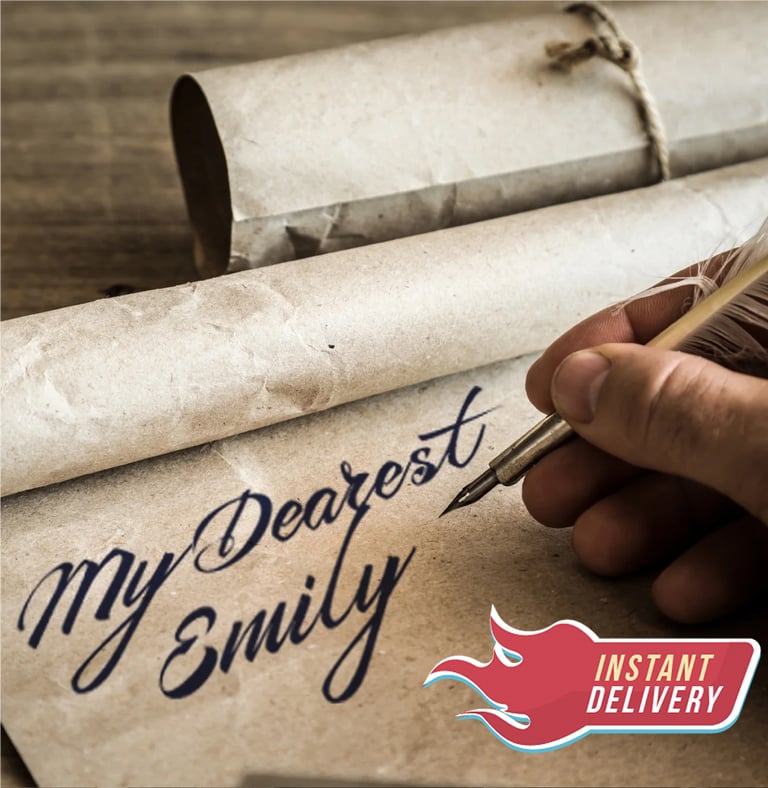 AVAILABLE FOR INSTANT PLAY
£15 GBP
$18.50 USD (approx based on current exchange rate)
€17 EURO (approx based on current exchange rate)
The price includes up to 4 players to play the game, this is the total cost. No extra payment required!
My Dearest Emily is the puzzle-filled tale of a young couple John and Emily who were separated during the Oklahoma land rush in the USA in 1889. Months go by and John sends his letters back home to his dearest Emily.
A story & puzzle experience that is sure to touch the heart and test your wits. Perfect for solo play or couples, can also be played in groups of up to 4 players.
Includes mp3 download of the title track "My Dearest Emily"
Players - 1-4 (ideal for couples)
Age - 12+ if playing with family
Time - 1-2 hours
Difficulty - Medium Difficulty
Compatability - Laptop/PC is best, tablet and phone also suitable.
You will receive your teams login details which you can all use to login from multiple locations and devices including Phone, Tablet and PC.
Communication is recommended via Facetime, Whatsapp or Zoom
No printer required, just an internet connection!
QUICK FAQ:
1. No printer required!
2. Play on Laptop, tablet or phone
3. Play multiple times across multiple devices and locations across the world
4. Communicate with your team via Zoom, Facetime or Whatsapp
5. When you purchase you can play any time after, your code doesn't expire
6. Clues are available inside the game if you get stuck
7. No time limits, play till completion, not just 60 minutes!
8. The price is for the whole group, not per person
Terms and conditions:
My Dearest Emily is a digitally delivered game and as such once delivered we will not offer refunds.
Please note - Due to peak periods Fri & Saturday 7-10pm you may experience some slowdown or downtime depending on your connection.
Share