Online Escape Room Bundle #3
£

170.00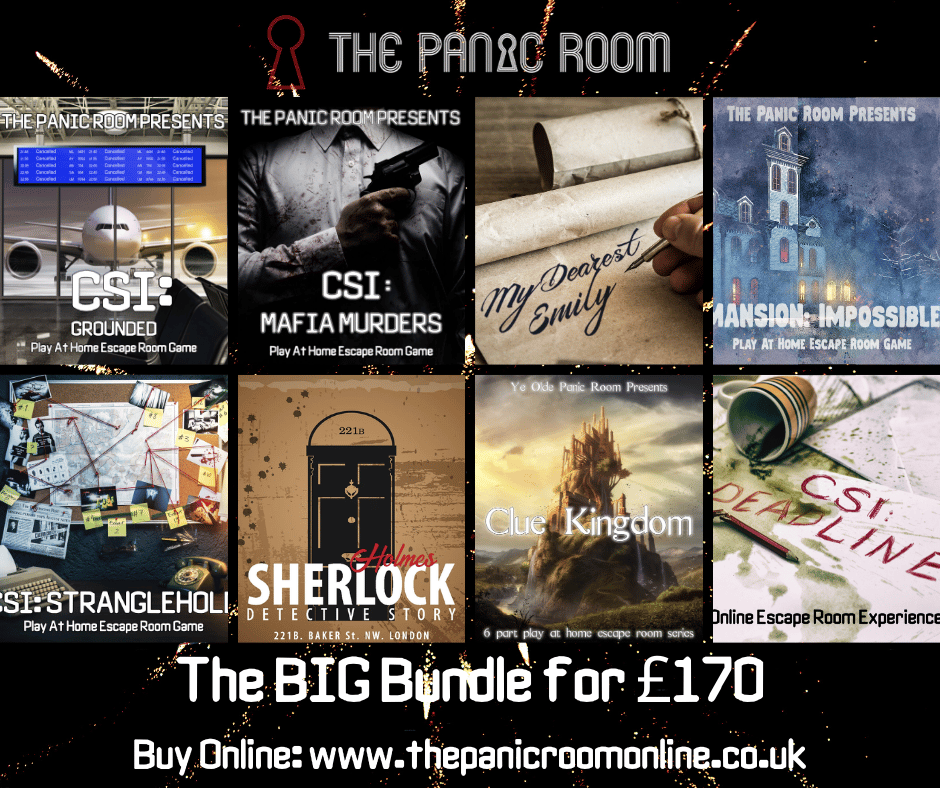 The Panic Room Presents - Online Escape Room Bundle #3
Discounted bundle contains:
CSI: Grounded - Available Now
CSI: Mafia Murders - Available Now
My Dearest Emily - Available Now
Mansion Impossible - Available Now
CSI: Stranglehold - Available Now
Sherlock Holmes - Available May 29th
CSI: Deadline - Available June 19th
All 6 parts of Clue Kingdom - Part 1 Available June 19th
Once purchased you will receive 2 emails, the first is a standard order confirmation and the second is from Pulley. The email from Pulley will contain a download link to your PDF that will have your login details on it. Login details for pre-order games will follow upon release.
This can sometimes end up in spam so please check there first incase it doesn't show in your inbox.
The login will be valid for the whole of your team, which you can all use to login from multiple locations and devices including Phone, Tablet and PC and you can play whenever you want 24/7. Communication is recommended via Facetime, Whatsapp or Zoom
Terms and conditions:
Our Online Escape Room experiences are digitally delivered game and as such once delivered we will not offer refunds.
You may not share the game with others groups to play, any replication or reselling is strictly forbidden.
Share